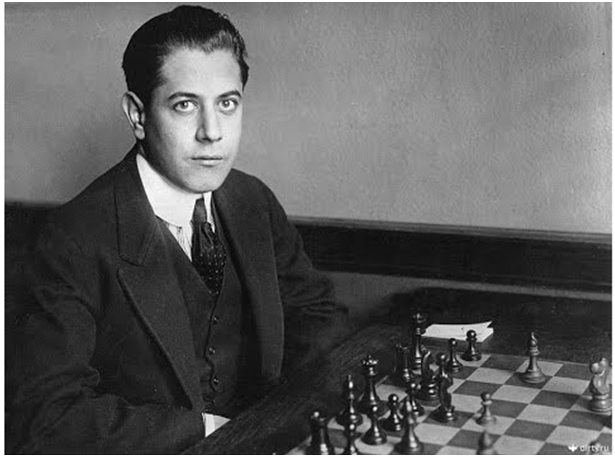 José Raúl Capablanca – Biography
José Raúl Capablanca was a Cuban chess player (1888-1942) and the 3d World Champion in chess. He was a genius of middlegame/endgame, as well as a master of positional play.
The legend was born in Havana on the Cuban island, a colony of Spain. On the 19th of November, 1888 in the family of an army officer.
As José Raúl Capablanca wrote later, he learned chess at 4, while watching his father playing. The future champion continued to play and improve his skill. At the age of 8, he started to visit a chess club occasionally. There, he would surprise the opponents with his infinite talent.
First victories
Capablanca's match with the then-current Cuban champion named Juan Corzo was the first serious success. José Raúl was only 12 at that time. The match was played until 4 victories. Corzo won the first 2 games, and the following 6 ones ended in a draw. The young man won the last 4 games.
In 1904, Capablanca moved to New York. He aimed to learn English in order to enter Columbian University. And he managed to do this in 1906. While studying, José Raúl kept on playing chess. A noteworthy achievement at that time was the victory in a Blitz tournament in 1906. The then-current World Champion Lasker also took part in it.
However, José Raúl Capablanca didn't intend to graduate from the university. Two years later, he dropped out of it to fully dedicate his life to chess.
The most important period of life
From 1908-1909, José Raúl traveled around the USA with his simultaneous exhibitions. Later, there was a match between him and the American Champion Frank Marshall. The latter was considered an international leader in chess and a beloved public figure. However, to everyone's surprise, the match resulted in sensational scores: 8-1 in Cuban's favor. With 14 games that ended in a draw. The next stage was to get a chance to fight for the chess crown.
The victory in an international tournament in San Sebastián contributed to it. Capablanca took first place leaving behind many strong chess players including Rubinstein and Vidmar. After that, he decided to challenge Lasker, but the first try failed. The players exchanged ultimatums and bold claims, however, at first, the meeting wasn't arranged.
World Champion
The situation changed in 1920 when an agreement to conduct a championship was signed. In the beginning, Lasker stated that he wanted to give up the title without playing. But society and the press weren't satisfied with this. Finally, the match took place in 1921.
The first 4 games ended in a draw. Capablanca won the fifth one. Then, there were another 4 games without a winner. But after that, The Cuban player won 3 out of 5 games with 2 draws. Further, Lasker gave up the match without finishing it with scores of 9-5.
As a champion, Capablanca had a lot of simultaneous exhibitions and tournaments. He also acted in an episode of Vsevolod Pudovkin's movie called "Chess fever".
In the 1920s, there were a lot of other chess stars other than Capablanca. And they all considered themselves worthy of participating in a championship.
In 1922, José Raúl stated his demands for the match:
playing until 6 victories

prize fund isn't less than 10,000$

a challenger provides the fund
A lot of players at that time wanted to take part in the match. But oftentimes, they couldn't provide money for the prize fund.
The title loss
In 1927, Capablanca was challenged. It was Alexander Alekhine who used financial support, mostly, from Argentina. The time appointed for the match was autumn 1927. Until then, Alekhine had never beaten the Cuban player. However, the challenger won the first game playing with black pieces. There were 34 games in total. The match resulted in 6-3 in Alekhine's favor with 25 draws.
After losing the title, Capablanca continued to participate in international tournaments. He also kept on taking the top places. By that, he tried to gain the right to play a rematch against Alekhine. But he never managed to do that. José Raúl died at the age of 53 in New York from a cerebral hemorrhage.
José Raúl Capablanca was a legendary chess genius, a literary man, and the 3d World Champion. He remained unbeatable from 1916 to 1924. And the player only lost 34 games in his professional career.