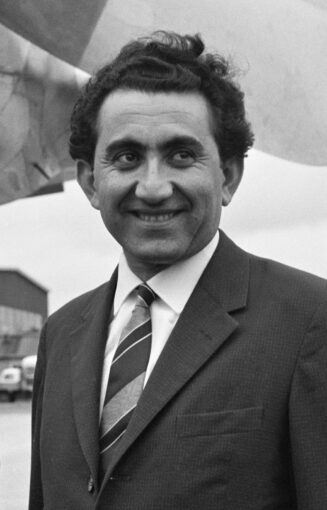 Tigran Petrosian – Biography
Many chess experts, including his contemporaries, like Mikhail Botvinnik, couldn't figure out this player's approach. How did he manage to beat everyone? Tigran Petrosian was rightfully considered a versatile player who mastered the art of positional play. He also possessed amazing tactical thinking ability. To back up this claim, let's take a closer look at his career.
Early Steps
The 9th World Champion was born in Tbilisi on 17 June 1929. He didn't have a particularly happy childhood. He lost his parents at an early age and was raised by his sister.
Young Tigran learned to play chess at a rather late age of 12. But his great talent has quickly become obvious. He developed his positional style under the guidance of his first coach, Ebralidze. And, of course, Aron Nimzowitch's "My System" also influenced him profoundly.
Petrosian's games were a sight to behold. He took his time, was methodical, and deliberately casual. Yet somehow, his pieces always ended up exactly where they needed to be. His opponents were dumbfounded to realize that their strategy had failed.
First Victories
It did not take long for Tigran Petrosian to become successful. Winning the Georgian Chess Championship in 1945 was a major accomplishment. Young Tigran then proceeded to win the USSR Championship for youngsters.
After moving to Armenia, he immediately became the country's chess champion. In 1947, he was already a master.
But no one can win every single battle. Tigran Petrosian had a poor start at the beginning of the USSR Debut Championship by losing 5 games in a row. But he didn't give up and made it to +1 in the remaining rounds.
A couple of years later, after working on his mistakes, Petrosian shared 2nd-3rd place in the same tournament. After all, they didn't call him "Iron Tigran" for nothing.
For the next 25 years, Petrosian was considered a member of the chess elite. He would always participate in qualifying rounds for the champion's title. In 1952, he ranked 2nd-3rd in the Interzonal and took part in the 1953 Candidates Tournament in Zurich. There, he took 5th place. To him, it felt as good as taking 1st.
Significant Other
As the story goes, Petrosian and Geller were interested in the same girl, Rona. The men decided to be blunt and asked her whom she would choose. Her reply was brilliant: "The Interzonal will tell." Petrosian ended up beating Geller by 0.5 points, and Rona became his lifelong wife and companion.
Destined for Success
The most intriguing thing about Petrosian was the fact that he rarely lost. By the end of his career, his performance at the Olympiads was astonishing: 79 victories, 1 loss, and 50 draws.
After Zurich, he's never lost two USSR Championships in a row. The positive trend continued at the 1955 Interzonal. In the Amsterdam Candidates Tournament, Tigran got even closer to first place, coming in 2nd-3rd.
In 1959, Petrosian became the Champion of the USSR for the first time, in his hometown, Tbilisi. Moreover, he didn't lose a single game! However, in the Candidates Tournament, Tal and Keres outperformed him significantly. All he could do was wait for the next qualifying round.
In 1961, he once again won the prestigious USSR Championship that was zonal in nature. He didn't win the Stockholm Interzonal but made it into the Candidates Tournament, which was his main goal.
World Champion
In the 1962 Candidates Tournament in Curacao, Petrosian added a dash of cunning to his already brilliant game. He convinced Keres and Geller to draw a tie. They played only 20 games instead of 28. This left them with some energy to spare, unlike their opponents. As a result, Petrosian won the Candidates Tournament without losing once.
The final step was to defeat Botvinnik in the battle for the champion's title. The young grandmaster accomplished that valiantly. He won with a score of 12.5 to 9.5 and became the 9th World Chess Champion.
Petrosian had a clear advantage throughout the match. His extremely effective practical approach and a unique hybrid style stumped the Patriarch of Soviet Chess.
After this triumph, Petrosian became a National Hero of Armenia. Thousands of people cheered for him at the railway station after the match.
Petrosian's next rival was Boris Spassky. The battles took place in Moscow, in 1966. Tigran's coach Boleslavsky trained him well. The Champion defended his title with a score of 12.5 to 11.5.
Loss of Title
Unfortunately, Petrosian's performance took a turn for the worse. Perhaps, it was no coincidence that this happened right after Iron Tigran turned 40.
In 1969, Spassky, having learned from his mistakes three years prior, defeated Petrosian 12.5 to 10.5. Boris launched a relentless offensive on Tigran who couldn't withstand the onslaught time after time.
As a testament to his character, Petrosian congratulated Spassky wholeheartedly with a sincere smile. He took the failure in stride and celebrated his 40th birthday. It coincided with the day of his defeat, with pomp.
As if unshackled, Petrosian began to demonstrate results typical of his younger self. He won the USSR Championship in 1969, naturally without a single loss. He then repeated his triumph in 1975, at the country's main tournament in Yerevan.
Tigran continued to qualify for World Championships. In 1971, he lost the final game to Fischer. The next three times, he conceded to Korchnoi after a fierce struggle.
1982 was the first year that he didn't make the cut for the Candidates Tournament. He took 4th place in the Interzonal, with only 2 qualifying spots.
In Conclusion
Unfortunately, Tigran Petrosian passed away at the early age of 55 on August 13, 1984. However, during his short life, he left his mark on history. Petrosian was a great Champion, whose games continue to be a subject of analysis and admiration for multiple generations of chess players.