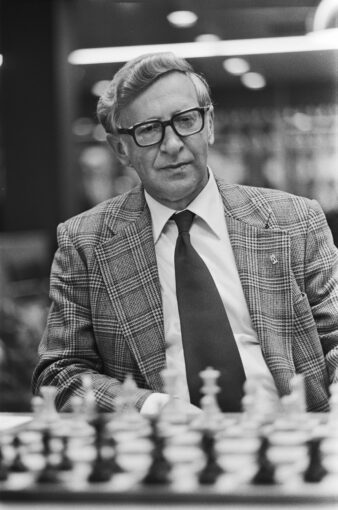 Vasily Smyslov – Biography
Vasily Smyslov – a Soviet/Russian chess player was a Grandmaster and the 7th World Champion in chess. Years of life: 1921-2010. 
He was born on the 24th of March, 1921 in Moscow. His father was quite a strong chess player in class A. Thanks to him, the boy learned to play chess when turned 6. 
First serious success
In 1938, Smyslov started to show amazing play at a high level. He took the 1-2 places in the Moscow Championship and defeated Flohr along with Euwe. He also won 1-3 places in the USSR Tournament among class A players. 
The victory in the Groningen Tournament paved the way for the world chess elite. That was the reason why Vasily was included in the World Championship of 1948. There, he took first place after Botvinnik. However, it was a serious sports achievement. This was the beginning of a series of successful events that lasted for 10 years.
World Championships
From 1953-1956, Vasily won the Candidates Tournaments. After that, he was allowed to compete in the match for the main title. Overall, he had 3 such events. All of them were played against Botvinnik, and each time the scores were different. 
In 1954, the match consisted of 24 games. The exhausting battle with equally strong competitors resulted in 12:12. The draw allowed Botvinnik to keep the title. Each player won 7 games, and there were also 10 draws. 
The Championship of 1957 was a triumph for Smyslov. He outplayed the Soviet chess hero with the scores 12,5-9,5. The match ended ahead of schedule. The chess story adopted the 7th Champion of the World.
Forfeiture of the title
Nevertheless, unfortunately for Vasily, his success didn't last for too long. In a year, in 1958, Botvinnik played the rematch. He gained back his title after outplaying Smyslov with the scores 12,5-10,5. 
From then on, Vasily had never had an opportunity to fight for the title again. In 1959, he only took 4th place in the Candidates Tournament. 
On a high level
Further, Smyslov kept showing the highest level of play for many years. For example, in 1984, a 62-year-old ex-World Champion persistently played in the Candidates Tournament. He reached the final and lost to Kasparov. 
Here's an interesting fact. 27 years passed between the first and the last Candidates' Match in which Smyslov participated!
Besides, it's important to note other things when talking about this person. He was a great theoretician and wrote numerous books. Among them, there are "Endgame Virtuoso", "125 Selected Games", "Rook Endings", and others. 
His name went down in the history of world chess forever. Vasily Smyslov left a great heritage in the form of books, chess works, and incredible games.